Construction and functions of individual elements of the module:
Collector
transfers heat from a water circuit to a substance locked in the plate's system
Plate with radiation elements
the heat absorbed from the collector, using the phenomenon of phase transition, is transferred to the entire surface of the plate. The back of the plate is additionally insulated with a radiant screen, consisting of three layers: paper, aluminum foil, paper:
paper,
aluminum foil,
paper
Technical data:
Panel dimensions: 2040 x 600 x 12.5 mm
(standard dimensions of the plasterboard 2000 mm + 40 mm the height of the collector)
Diameter of a connector: 12 mm
Heating capacity:
Panel with a heat power of up to 200 W - it is sufficient to heat an area of 3m2.
System connection:
Soffio heating panels are compatible with every heat source:
low-temperature systems (heating pumps, solar modules, electric furnaces, gas furnaces)
high-temperature systems - solid fuel boilers (coal, wood, ecological fuel)
Application:
Soffio wall heating panels system is an innovative solution in heating technology for all newly constructed and modernized buildings, both residential and commercial.
It is a perfect solution in traditional and modern construction, both for brick and skeletal houses, and also appropriate for buildings being renovated or modernized.
Panels can be installed at every stage of finishing or renovation works:
on load-bearing walls
partition walls
on sloped surfaces of attics
Soffio panels are also available for installation under windows in a version for self-adjustment of a height from 750 mm to 1240 mm.
Savings in numbers
Soffio wall panels outperform other modern solutions of heating technology in costs saving. Our product is distinguished by low thermal inertia.
In the case of underfloor heating it is necessary to first heat several tonnes of concrete before we notice an increase of temperature in the room.
In contrast, Soffio wall panels need to heat only a small amount of water supplied to the collector. This results in lower consumption of energy, even by 15%.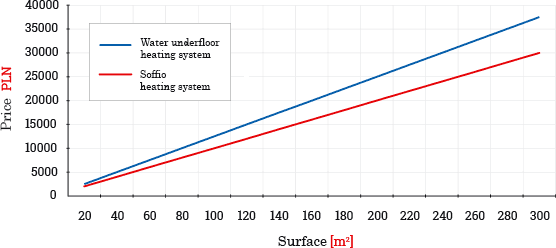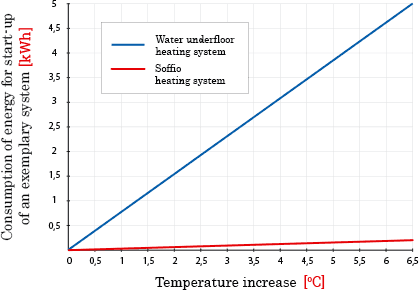 ---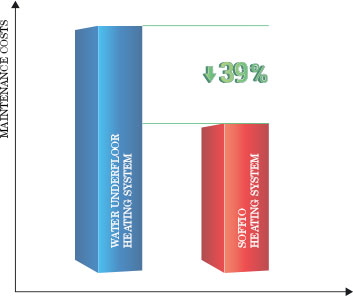 Our solution is based on radiation, not on convection of warm air.
It allows to reduce the temperature in the room from 21 degrees to 17 degrees, at the same time maintaining thermal comfort.
Reduction of temperature by 1 degree causes a reduction of energy consumption by 6%, which means that a reduction by 4 degrees gives another 24% of savings.
---
Heat power demand
1 panel per 2 m²
of surface area
1 panel per 5 m³
of cubic volume
1 panel per 3 m²
of surface area
1 panel per 7,5 m³
of cubic volume
Flow Temperature
Heat power
Flow Temperature
Heat power
Energy efficient building (20-30 W/m²; 8-12 W/m³)
38-45℃
60-90W
45-55℃
90-135W
Thermally insulated building (40 W/m²; 16 W/m³)
55℃
135W
65℃
180W
Other buildings (50 W/m²; 20 W/m³)
60℃
160W
75℃
230W
Calculator
of heating with Soffio panels
Online calculator for quick calculation of heating with Soffio panels.